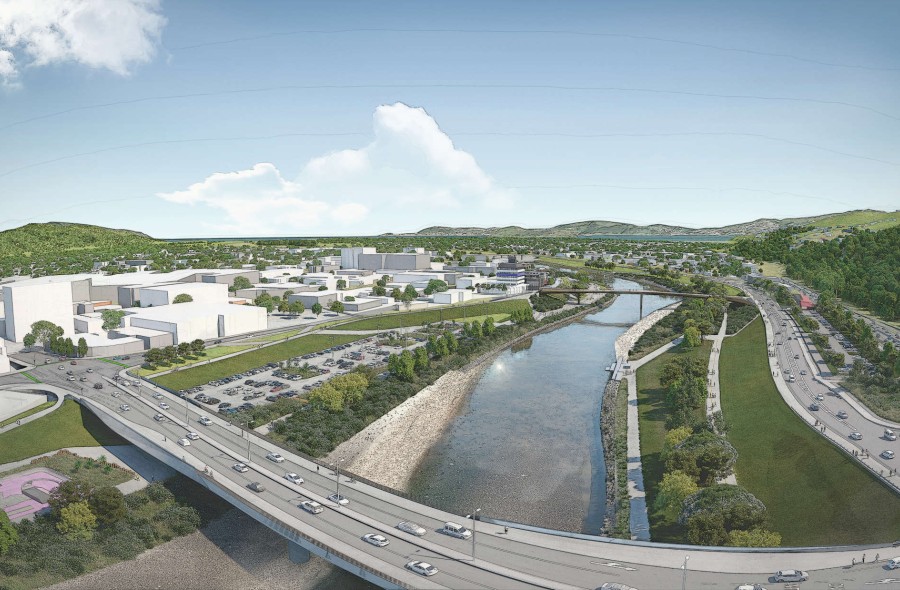 AECOM Fletcher to deliver RiverLink 
17 April 2023
After more than five years of extensive consultation, engagement, and consenting work by project partners on behalf of their local communities, RiverLink is pleased to announce AECOM-Fletcher as the preferred alliance to deliver the programme.
Waka Kotahi Regional Manager of Systems Design Kesh Keshaboina says finding the right team for the job has been front and centre for project partners over the past six months, and this announcement marks a key milestone in the programme.
"Strong relationships have been key in getting us to where we are today and will be fundamental in the ongoing success of the RiverLink programme. Guided by programme objectives Ora Tāngata, Ora Taiao and Ora Wairua, we look forward to working together with our partners and the AECOM-Fletcher alliance to achieve the best outcomes for our people, communities, and environment," Keshaboina says.
"For us, RiverLink is a unique opportunity to deliver a more integrated, safer, reliable and accessible transport system for all modes, and one that improves the resilience of our regional infrastructure. By working collaboratively together with our project partners, we've been able to achieve much more than we would have individually. It's a testament to the partnership we have built over the last five years, and how we intend to continue going forward into the delivery phase," Keshaboina says.
The alliance will also upgrade flood protection infrastructure on Te Awa Kairangi / Hutt River. Greater Wellington Chair Daran Ponter says one of the greatest threats to the region is a serious flood on the river, which has the potential to destroy more than a billion dollars' worth of community, council and state assets.
"The devastation wrought by Cyclones Gabrielle and Hale demonstrates why RiverLink is a priority for the regional council. We welcome the appointment of the AECOM-Fletcher alliance to create flood defences capable of protecting thousands of homes and hundreds of businesses in and around the Lower Hutt CBD.
"Together with our RiverLink partners, Greater Wellington looks forward to working with the alliance to strengthen regional resilience, defend the community and enhance the health of the river," Ponter says.
As well as improving flood protection, RiverLink will develop better transport connections, revitalise the city centre and help prepare it for future development. Lower Hutt Mayor Campbell Barry says RiverLink is a vital project which provides a range of benefits and helps the city respond to some of its biggest challenges.
"RiverLink is a transformational project which will revitalise our city centre and help us respond to increasing congestion, the effects of climate change, improving connections within our transport network and the need for the development of more housing due to our growing population," Barry says.
"Along with the protections it brings, RiverLink will provide better public transport and walking and cycling connections, as well as roading upgrades, to make it easier for our residents to move around the city centre. It will create new recreation areas with the river as a focal point and help us to prepare for future residential and commercial development, all with the vision of turning the city centre to face the river," Barry says.
"We are very excited to be at this stage and look forward to working with AECOM-Fletcher and our other partners to plan how we are going to deliver this series of projects and the benefits they bring for our communities."
General Manager of Fletcher Construction Major Projects, Mike Elliot, and AECOM New Zealand Managing Director, Craig Davidson, say this is an exciting opportunity to be involved in delivering this transformational set of projects for Lower Hutt.
"We're looking forward to working with the amazing team which has been delivering the project to date. Recent events have shown that we need even stronger defences to prevent significant flood damage to homes, businesses and the natural world. RiverLink will not only protect Te Awa Kairangi ki Tai but also create a city where people have beautiful spaces and more time to spend with friends and whānau," Elliot and Davidson say.
"These changes will have a major impact on how people live in this city and deliver benefits that will be felt for generations to come. We're proud to part of this legacy project."
The RiverLink programme is expected to begin main construction later this year and be completed in 2027.
AECOM-Fletcher join RiverLink partners – Waka Kotahi, Hutt City Council, Greater Wellington, and iwi Taranaki Whānui ki te Upoko o te Ika and Ngāti Toa Rangatira – to deliver crucial flood protection and river restoration work, improvements to public transport, walking and cycling routes, local roads and the State Highway 2 Melling Interchange, as well as urban revitalisation of the Lower Hutt city centre.
Over the next six months, RiverLink partners will work closely with the alliance to explore further innovations and value improvements through the design to potentially reduce costs and improve the outcomes that have been identified. This is called the Interim Project Alliance Agreement phase.
When the final detailed design, cost and construction approach is agreed upon, a Project Alliance Agreement will be signed later this year, with main construction to follow.
Tags
---
Recent Posts
Find by Type