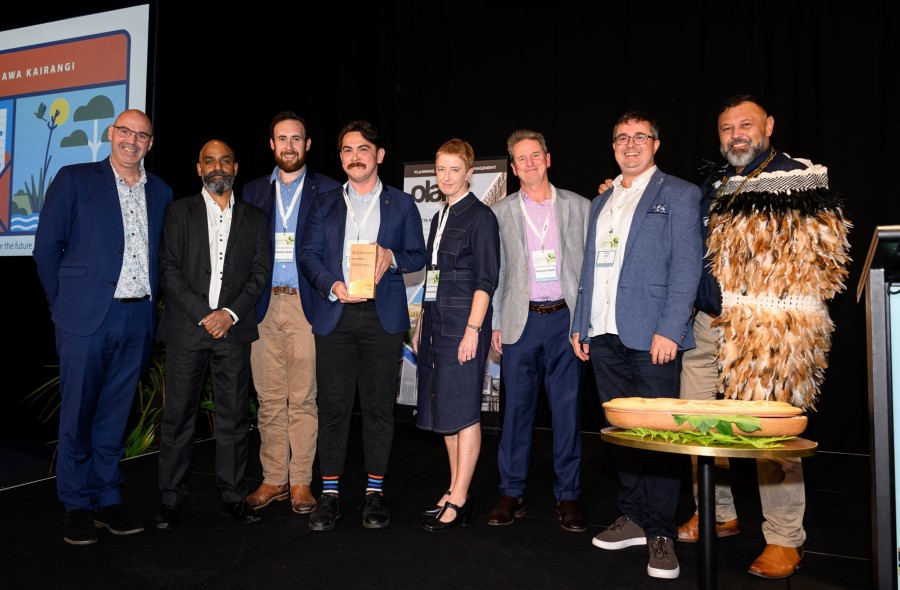 RiverLink awarded NZPI Best Practice Award 
20 April 2023
The RiverLink resource consent process has been awarded the New Zealand Planning Institute's Best Practice Award for Integrated Planning and Investigations.

RiverLink is a partnership between Greater Wellington, Waka Kotahi, Hutt City Council and iwi Taranaki Whānui ki Te Upoko o Te Ika and Ngāti Toa Rangatira to deliver crucial flood protection and river restoration work, improvements to public transport, walking and cycling routes, local roads and the State Highway 2 Melling Interchange, as well as urban revitalisation of the Lower Hutt city centre.

Greater Wellington Chair Daran Ponter says the award is recognition of the collaboration behind RiverLink. "This is a badge of honour for the partners, and our unified approach for achieving our respective goals. By working together, we are putting a healthier and safer river back at the heart of a more accessible and attractive city," Ponter says.

Lower Hutt Mayor Campbell Barry says "RiverLink has been talked about for decades, so not only is it fantastic to get to this stage, but receiving this award is a great acknowledgement of the careful planning, hard mahi and collaboration that has helped keep the project moving forward. It's now important that we get on and deliver this once in a generation project."

Waka Kotahi Regional Manager of Systems Design Kesh Keshaboina says this achievement is a strong reflection of the partnership, but also how we intend to deliver great outcomes for the community.
"It's my hope that the community sees this as a sign of our commitment to delivering a more integrated, safer, reliable and accessible transport system for all modes, and one that improves the resilience of our regional infrastructure into the future," Keshaboina says.
The planning work for RiverLink was delivered by consultants GHD Ltd, who worked collaboratively with legal advisors Buddle Findlay and the programme partners.
The consenting process required a high-level approach which brought together three projects into a single consent application. This approach reflected the RiverLink partners' commitment to collaboration and 'best for project' decisions.
The process has been greatly supported by the Mana Whenua Steering Group that acts at the governance level to the RiverLink programme. Submissions from both Taranaki Whānui ki te Upoko o te Ika Trust and Ngāti Toa Rangatira were made to the Environmental Court supporting the vision and objectives that would ultimately provide greater environmental outcomes to local iwi and the community.
The RiverLink programme is guided by three objectives: Ora Tāngata, Ora Taiao and Ora Wairua. These objectives seek to ensure the uplift of iwi and the community, the protection of Te Awa Kairangi/Hutt River and natural environment, and the prominence of iwi and te ao Māori throughout the project. 
RiverLink is a hugely significant and transformational project that will bring much needed resilience to the Hutt Valley.
Final resource consents were granted, and Notices of Requirement confirmed, in November 2022.
The award was presented to the RiverLink team on Wednesday 19 April at the 2023 NZPI Conference.
Pictured above: David Curtis (NZPI CEO), Kesh Keshaboina (Waka Kotahi), Kara Puketapu-Dentice (Hutt City Council), Levi Rona (Mana Whenua Steering Group), Mary O'Callaghan (GHD), Wayne O'Donnell (Greater Wellington), David Allen (Buddle Findlay), Reginald Proffit (NZPI Chair)
Tags
---
Recent Posts
Find by Type